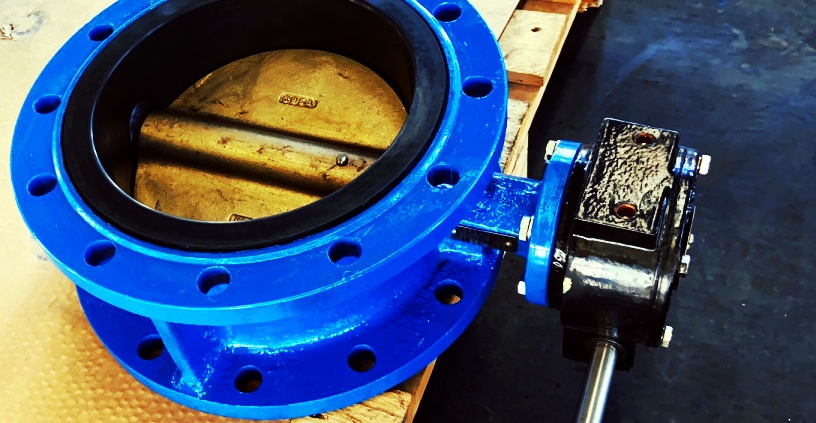 tanghaivalve.com
Centerline flange butterfly valve
The centerline flange butterfly valve is a high-quality soft-sealed valve. Mainly by the fully lined rubber valve body. The disc plate, valve stem, operating mechanism
and other parts have the characteristics of simple structure, good corrosion resistance, light operating torque and high reliability.
Overview of Centerline flange butterfly valve:
The centerline flange butterfly valve is widely used in tap water system, industrial water system, sewage treatment, metallurgy, petrochemical and other industries to cut off and adjust pipeline media. It is also suitable for corrosive systems (such as seawater treatment, etc.) Used for cutting off and adjusting.
Features of Centerline flange butterfly valve:
Excellent corrosion resistance
The inner wall of the valve body adopts an integral rubber vulcanization structure, which completely isolates the contact between the medium and the valve body metal. In addition to the corrosion-resistant disc plate, the valve has excellent anti-corrosion performance;
Low flow resistance
The disc version adopts a pancake-like structure, coupled with a full-bore valve seat, the valve has a very low flow resistance;
Light operating torque
The rubber valve seat is vulcanized on the valve body as a whole, and the valve seat will not be displaced or moved during the valve opening and closing process. When the valve is fully closed, the compression amount of each valve seat is uniform, and the valve seat has a lower operating torque;
Reliable disc plate and shaft connection
The connection between the disc and the shaft adopts a special pin structure, which is firm and reliable;
Diversified operation forms of Centerline flange butterfly valve:
The valve can be equipped with worm gear drive, handle drive, electric, pneumatic and other drive modes to meet customer needs.
technical parameter of Centerline flange butterfly valve:
Valve connection form: double flange
Nominal valve size: DN50-DN1200
Pressure rating PN6-PN25
Executive standard: API, DIN, BS, EN, GB and other international standards.
Design and Manufacture Conform to EN 593, API609
Flange dimensions Conform to EN 1092-2 PN10
Face to Face dimensions Conform to EN558 series
Topwork's dimensions Conform to ISO5211
Testing Conform to API598, EN12266-1
Tanghai Valve is the best manufacturer of flange butterfly valve in China. We produce the best quality products with competitive low prices. Our products use advanced manufacturing technology, and strictly conform to API, DIN, BS, EN, GB and other international standards. The main products are butterfly valves, gate valves, check valves, globe valves, valve parts (Valve body, Valve disc, Valve shaft, Valve seat…), etc. Our products are widely used in various fields such as marine industry, shipbuilding, petrochemical , metallurgy, water treatment, fire fighting, water supply and drainage, etc. The company has won unanimous recognition and praise from customers with high quality and good reputation.
Related news /products:
U type flange butterfly valve (TH-BTV-UTF);
Lug type butterfly valve (TH-BTV-LT);
Features and structure drawings of flange butterfly valve;
electric wafer butterfly valve vs electric flange butterfly valve
https://www.tanghaivalve.com/wp-content/uploads/2020/06/Double-flange-butterfly-valve-3.jpg
588
816
admin
https://www.tanghaivalve.com/wp-content/uploads/2020/07/logo2.png
admin
2020-07-23 07:32:36
2021-08-06 08:15:48
Centerline flange butterfly valve