Marine industry, Water supply and drainage, fire fighting, shipbuilding, water treatment and other systems, DN50 to D1200, NBR/EPDM/VITON, Certificates & Approvals: DNV-GL, Lloyds, DNV, ABS, BV, Standards: EN 593,  API609
Valve body (TH-VBD)
Definition of valve body: The definition of "valve" is a device used to control the direction, pressure and flow of fluid in a fluid system. A valve is a device that allows the medium (liquid, gas, powder) in piping and equipment to flow or stop, and can control its flow rate.
The valve body is a major component in the valve; there are different mechanical manufacturing methods depending on the pressure level. For example: casting, forging, etc.
The valve body of medium and low pressure is usually produced by casting process.
The medium and high pressure valve body is produced by forging process.
After forming a seal with the valve core, valve seat and sealing ring, it can effectively withstand the pressure of the medium.
The material of the valve body uses different metal materials according to different process media.
Common materials are: cast iron, ductile iron, cast steel, stainless steel, carbon steel, etc.
Materials used for valve bodies:
Due to the low cost and wide range of applications, Gray cast iron valves are used in many fields of industries. The medium usually used are water, steam, oil and gas. The Gray cast iron valve body are widely used in oiling, chemical industry, printing, dyeing, textile and many other industrial products that have little or no impact on iron pollution. It is suitable for low-pressure valves with working temperature between –15~200℃ and nominal pressure PN≤1.6MPa.
Ductile iron is a type of cast iron. In this cast iron, agglomerated or nodular graphite replaces flake graphite in gray cast iron. This change in the internal structure of the metal makes its mechanical properties better than ordinary gray cast iron, and does not damage other properties. Therefore, valves made of Ductile iron can withstand higher pressure than those made of gray cast iron. It is suitable for medium and low pressure valves with working temperature between –30~350℃ and nominal pressure PN≤4.0MPa. The applicable medium is water, seawater, steam, air, gas, oil, etc.
The original development of cast steel was to meet production needs that exceeded the capabilities of cast iron and bronze valves. However, due to the good overall performance of the carbon steel valve and the large resistance to stress caused by thermal expansion, impact load and pipeline deformation, it has expanded its scope of use, usually including the working conditions of cast iron valves and bronze valves. . Suitable for medium and high pressure valves with working temperature between –29~425℃. Among them, 16Mn and 30Mn are used in the temperature range of –40~400℃, which is commonly used to replace ASTM A105. The applicable medium is saturated steam and superheated steam, high and low temperature oil products, liquefied gas, compressed air, water, natural gas, etc.
Other materials of valve body: Stainless steel, Alu Bronze
Area of application
Marine industry, Water supply and drainage, petrochemical, metallurgy, fire fighting, shipbuilding, water treatment and other systems
Actuation
Hand lever
Worm-gear/hand-wheel
Electric-actuator
Pneumatic-actuator
Hydraulic-actuator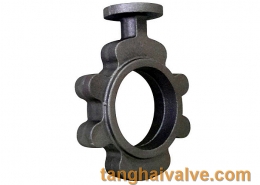 tanghaivalve.com
https://www.tanghaivalve.com/wp-content/uploads/2020/06/lug-type-buttefly-valve-body-3.jpg
505
695
admin
https://www.tanghaivalve.com/wp-content/uploads/2020/07/logo2.png
admin
2020-05-06 03:01:54
2020-07-23 06:30:21
Valve body (TH-VBD)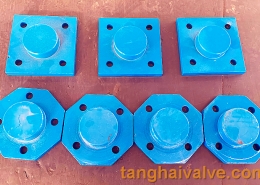 tanghaivalve.com
https://www.tanghaivalve.com/wp-content/uploads/2020/06/bonnets-for-butterfly-valve-1.jpg
485
768
admin
https://www.tanghaivalve.com/wp-content/uploads/2020/07/logo2.png
admin
2020-05-02 05:37:44
2020-07-23 06:58:50
Valve accessories-bonnet bushing bolts nuts (TH-VBN)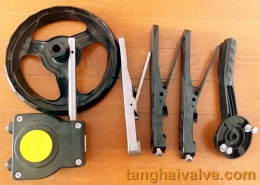 tanghaivalve.com
https://www.tanghaivalve.com/wp-content/uploads/2020/06/manual-actuator-lever-handwheel-worm-gear-box.jpg
530
766
admin
https://www.tanghaivalve.com/wp-content/uploads/2020/07/logo2.png
admin
2020-05-01 06:07:42
2020-07-23 07:19:46
Valve actuators /actuation (TH-VAT)