Marine industry, Water supply and drainage, fire fighting, shipbuilding, water treatment and other systems, DN50 to D1200, NBR/EPDM/VITON, Certificates & Approvals: DNV-GL, Lloyds, DNV, ABS, BV, Standards: EN 593,  API609
Valve seat sealing (TH-VSE)
The valve seat is a detachable surface part in the valve, used to support the fully closed position of the valve plate, and constitutes a sealing pair. The general valve seat diameter is the maximum flow diameter of the valve. For example, the valve seat material of butterfly valve is very wide, all kinds of rubber, plastic, metal materials can be used as the seat material, for example: EPDM, NBR, NR, PTFE, PEEK, PFA, SS315, STELLITE and so on.
Introduction of valve seat/sealing
Elastic sealing material and small actuator thrust are used to obtain air bubble tight-grade sealing. Compression of the valve seat sealing stress causes the material to elastically deform and squeeze into the rough surface of the matching metal parts to block all leakage paths. The permeability of the material is the basis for a small amount of fluid leakage. The material is too soft, or cold deformation (creep) under load, you can add fillers such as glass fiber to make it hard. If it is used to make a thin sheet, it can still meet the requirements of use, and can eliminate cold deformation or permanent deformation.
The seal must be carefully fixed to prevent rupture and air leakage due to the pressure difference. It is a method to bond the soft valve seat to the metal parts, but it cannot completely solve the problem, because the bond will break and fail when subjected to thermal shock. A sufficiently large pressure drop will destroy the bonding material.
Material properties of valve seat/sealing
The material properties that should be considered when selecting a soft valve seat are
1) Fluid compatibility, including swelling, loss of hardness, permeability, degradation;
2) Hardness;
3) Permanent deformation;
4) The degree of recovery after the load is eliminated;
5) Tension and compression strength;
6) Deformation before rupture;
7) Elastic modulus.
Common materials and their characteristics
EPDM valve seat:
Working temperature: -40 degrees to 204 degrees
Working pressure: Max 10Bar
Sealing level: ANSI B 16.104, ClassV1
Seat material: ethylene propylene rubber
Application areas:
Water treatment and sewage treatment technology, chemical and petrochemical industry, shipping, food, beverage, pharmaceutical, equipment purification, fuel transportation and storage, air conditioning, municipal engineering, seawater desalination, etc.
NBR valve seat:
Nitrile Butadiene Rubber (NBR) is a synthetic rubber, a copolymer of acrylonitrile and butadiene monomer polymerized, excellent oil resistance (especially alkane oil), high wear resistance, gas It has the advantages of good tightness, good heat resistance, strong adhesion and good aging resistance. Disadvantages are poor low temperature resistance, poor ozone resistance, poor insulation, slightly lower elasticity, not suitable for insulation materials.
It is also called NBR. A synthetic rubber made by copolymerization of butadiene and acrylonitrile. It is synthetic rubber with good oil resistance (especially paraffin oil) and good aging resistance. The content (%) of acrylonitrile in nitrile rubber is 42-46, 36-41, 31-35, 25-30, 18-24 and so on. The greater the content of acrylonitrile, the better the oil resistance, but the cold resistance decreases accordingly. It can be used for a long time in air at 120°C or in oil at 150°C. In addition, it also has good water resistance, air tightness and excellent bonding properties. Widely used in the production of various oil-resistant rubber products, a variety of oil-resistant gaskets, gaskets, sleeves, flexible packaging, flexible hoses, printing and dyeing rubber rollers, cable adhesive materials, etc., becoming indispensable in the automotive, aviation, petroleum, photocopying and other industries Elastic material.
PTFE valve seat:
PTFE: It is a kind of polymer chemical material containing polytetrafluoroethylene. It is widely used in packaging, electronic and electrical, chemical energy, and corrosion-resistant materials. This high-performance special coating is a fluorocarbon coating with polytetrafluoroethylene as the matrix resin. The English trademark name is Teflon. PTFE has non-stickiness, heat resistance, sliding resistance, moisture resistance, abrasion resistance, corrosion resistance, etc.
Chemical properties of PTFE:
Insulation: Not affected by the environment and frequency, the volume resistance can reach 1018 ohm•cm, the dielectric loss is small, and the breakdown voltage is high.
High and low temperature resistance: little effect on temperature, wide temperature range, usable temperature -190~260℃.
Self-lubricating: It has the smallest friction coefficient among plastics and is an ideal oil-free lubricating material.
Surface is not sticky: None of the known solid materials can adhere to the surface, and it is a solid material with the smallest surface energy.
 Non-combustible: The oxygen limit index is below 90.
ptfe is widely used in electrical, electronic industry, chemical industry, aviation industry, machinery industry, defense industry, etc.
Valve seat sealing Photos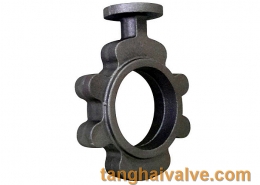 tanghaivalve.com
https://www.tanghaivalve.com/wp-content/uploads/2020/06/lug-type-buttefly-valve-body-3.jpg
505
695
admin
https://www.tanghaivalve.com/wp-content/uploads/2020/07/logo2.png
admin
2020-05-06 03:01:54
2020-07-23 06:30:21
Valve body (TH-VBD)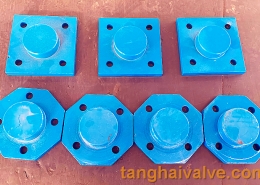 tanghaivalve.com
https://www.tanghaivalve.com/wp-content/uploads/2020/06/bonnets-for-butterfly-valve-1.jpg
485
768
admin
https://www.tanghaivalve.com/wp-content/uploads/2020/07/logo2.png
admin
2020-05-02 05:37:44
2020-07-23 06:58:50
Valve accessories-bonnet bushing bolts nuts (TH-VBN)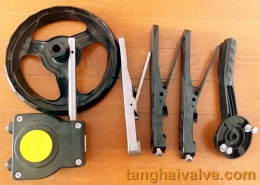 tanghaivalve.com
https://www.tanghaivalve.com/wp-content/uploads/2020/06/manual-actuator-lever-handwheel-worm-gear-box.jpg
530
766
admin
https://www.tanghaivalve.com/wp-content/uploads/2020/07/logo2.png
admin
2020-05-01 06:07:42
2020-07-23 07:19:46
Valve actuators /actuation (TH-VAT)