High performance-Double offset-butterfly valve: Petrochemical, metallurgy, electric power, mechanical equipment, urban pipe network, water treatment, etc. DN40 to D1200, NBR/EPDM/VITON, PTFE, Certificates & Approvals: DNV-GL, Lloyds, DNV, ABS, BV, Standards: EN 593,  API609
Double eccentric butterfly valve (TH-BTV-DE)
Area of application
Petrochemical, metallurgy, electric power, mechanical equipment, urban pipe network, water treatment, etc.
Data sheet of Double eccentric Butterfly valve
Type:
Double eccentric, Wafer, Lug, Double flange, Welded
Size & Connections:
DN40 to D1200
Medium:
Air, Inert Gas, Oil, Seawater, Waste water, Water
Materials:
Cast Iron / Ductile Iron/ Carbon Steel / Stainless
Steel / Alu Bronze
Pressure Rating:
PN10/16, Class 150/300
Temperature:
-30°C to 200°C
Seat/Lining:
Replaceable / Bonded /vulcanized Liner
NBR/EPDM/VITON, full lined PTFE/PFA
Certificates & Approvals:
DNV-GL, Lloyds, DNV, ABS, BV Type Approval
3.1 & 3.2 Cert (on request)
Standards
Design and Manufacture Conform to EN 593、 API609
Flange dimensions Conform to EN2632
Face to Face dimensions Conform to DIN3202 F4
Topwork's dimensions Conform to ISO5211
Testing Conform to ISO5208
Material of Parts
Part name
Material
Body
ASTM A536 65-45-12/ASTM A126 B, EN-JL 1040 (GG-25), EN-JS 1030 (GGG-40), EN-JS 1049 (GGG 40.3), Stainless steel (1.4408), Alu-Bronze
Disc / Plate
DI+NI,CF8/CF8M,C954/C958
EN-JS 1030 (GGG-40)
Stainless steel (1.4408)
Shaft / stem
SS431/SS420/SS410/SS304/SS316
Seat / lining
NBR/EPDM/VITON /PTFE/PFA
Taper pins
SS416/SS316
Bushing
BRASS/PTFE
O-ring
NBR/EPDM/VITON /PTFE
Key
STEEL
Actuation
Worm-gear/hand-wheel
Electric-actuator
Pneumatic-actuator
Hydraulic-actuator
Double offset high performance butterfly valve features:
1.Double eccentric butterfly valve is also called high-performance butterfly valve, which is mainly used for water drainage in water plants, power plants, steel smelting, chemical industry, water source engineering, environmental facilities construction, etc.
2. Fire-proof structure
Fire-proof valve is tested to API 607 4th Edition and BS 6755 Part II
3. Fixed Stem
Fixed collar is installed in the top of axis, 2″-24″(DN50-600), when axis breaks accident, avoid the upper part to move out of gland.
4. Provide CE marked versions available
CE marked and documented valves that conform to the European Pressure Equipment Directive (PED) 97/23/EC are available in ANSI Class 150/ 300, both standard and Fire-Tight construction. Operating torques, construction potions and valve dimensions are exactly the same as the standard ANSI 150/300 offering.
5. Convenient to maintain and upkeep valve seats
Replace axis only by taking inserts down, without disassembling disc and axis.
6. Excellent for both On-Off and Control Application
Superior control characteristics.
Inherent flow characteristic is modified equal percentage.
Wide range
Tight shut-off even in control applications.
Standard lugged style valves are suitable for bidirectional dead-end service at the full pressure temperature rating of the valve
7.Single-Source Responsibility
Purchase valves, actuators, and accessories, completely mounted from one source.
Available with electric, manual gear, and pneumatic double acting or spring return actuators and a variety of accessories including limit switch, solenoids, and positioners.
OEM service available through world-wide service centers.
8. Available in a Wide Choice of Material for a Broad Range of Applications
Standard body materials include ductile iron, aluminium bronze, carbon steel, stainless steel, Monel, Alloy 20. Users can also, according to requirements, select other materials.
Related types of butterfly valves:
We have other types of butterfly valves: wafer butterfly vlave, Lug type butterfly valve, U flange butterfly valve, double flange butterfly valve, fluorine lined PTFE butterfly valve, and triple eccentric butterfly valves  used in Marine industry, Water supply and drainage, fire fighting, shipbuilding, water treatment and other systems, with Nominal Diameter of DN50 to DN1200, NBR/EPDM/VITON, Certificates & Approvals: DNV-GL, Lloyds, DNV, BV, API, ABS, CCS. Standards: EN 593, API609, API6D,
Double eccentric butterfly valve Photos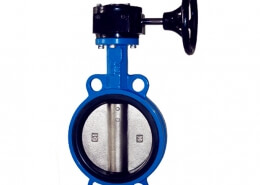 tanghaivalve.com
https://www.tanghaivalve.com/wp-content/uploads/2020/06/Wafer-type-butterfly-valve-with-worm-gear.jpg
610
679
admin
https://www.tanghaivalve.com/wp-content/uploads/2020/07/logo2.png
admin
2020-05-21 07:48:00
2021-10-28 08:25:03
Wafer type butterfly valve (TH-BTV-AW)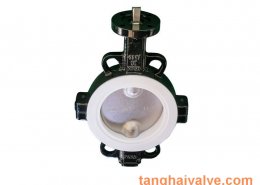 tanghaivalve.com
https://www.tanghaivalve.com/wp-content/uploads/2021/01/Fluorine-lined-butterfly-valve-PTFE-WAFER-1.jpg
600
800
admin
https://www.tanghaivalve.com/wp-content/uploads/2020/07/logo2.png
admin
2020-05-17 10:10:31
2021-05-12 08:10:16
Fluorine lined PTFE butterfly valve (TH-BTV-PTFE)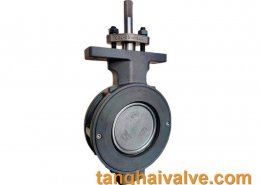 https://www.tanghaivalve.com/wp-content/uploads/2021/01/high-performance-double-offset-wafer-type-butterlfy-valve-metal-seated-5.jpg
600
800
admin
https://www.tanghaivalve.com/wp-content/uploads/2020/07/logo2.png
admin
2020-05-17 08:23:53
2021-05-12 08:20:11
Double eccentric High performance butterfly valve (TH-BTV-DE)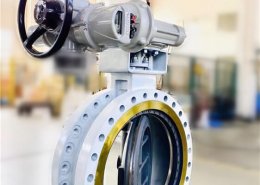 tanghaivalve.com
https://www.tanghaivalve.com/wp-content/uploads/2021/04/triple-offset-butterfly-valve-double-flange-5.jpg
800
562
admin
https://www.tanghaivalve.com/wp-content/uploads/2020/07/logo2.png
admin
2020-05-16 08:16:26
2021-05-12 08:35:01
Triple eccentric butterfly valve (TH-BTV-TE)