Marine industry, Water supply and drainage, fire fighting, shipbuilding, water treatment and other systems, DN15 to D2000, NBR/EPDM/VITON, Certificates & Approvals: DNV-GL, Lloyds, DNV, ABS, BV, Standards: EN 593,  API609
Ball valve  (TH-BAV)
Ball valve is a valve whose opening and closing parts (balls) are driven by a valve stem and rotates around the axis of the ball valve. It can also be used for fluid regulation and control. The ball valve is mainly used in the pipeline to cut off, distribute and change the flow direction of the medium. It only needs to be operated with a rotation of 90 degrees and a small torque to close tightly. Ball valves are most suitable for switching and shut-off valves
With the continuous improvement of production technology and product structure, ball valves have rapidly developed into a major type of valve, and the use of ball valves is increasing year by year.
Area of application
Petroleum refining, long-distance pipeline, chemical industry, paper-making, pharmaceutical, water conservancy, electric power, municipal, steel and other industries,
Data sheet of Ball valve:
Type:
Multi-Flange Wafer
Size & Connections:
DN15 to D250
Medium:
Water, Seawater, steam, oil, nitric acid, acetic acid, oxidizing media, urea and other media
Materials:
Cast Iron / Ductile Iron/ Carbon Steel / Stainless
Steel / Alu Bronze
Pressure Rating:
PN10, PN16
Temperature:
-196℃~540℃
Seat/Lining:
Replaceable Liner / Bonded Liner
NBR/EPDM/VITON
Certificates & Approvals:
DNV-GL, Lloyds, DNV, ABS, BV Type Approval
3.1 & 3.2 Cert (on request)
Standards
DIN 3357, DIN3202,
DIN 2533,
ISO5208, BS EN1092
BS5153 (BS EN 558-1 Series 10)
Material of Ball valve Parts
| | |
| --- | --- |
| Part name | Material |
| Body | Cast Iron; Ductile Iron; Stainless Steel; Carbon steel |
| Disc / Flap | Stainless Steel; Carbon steel; Bronze |
| Shaft / stem | Brass, Stainless Steel Monel; Stainless Steel Inconel |
| Seat / lining | NBR/EPDM/VITON |
| Bolts | Carbon steel |
| Nuts | Stainless steel |
| Gasket/Packing | PTFE |
| Circlip | Carbon Steel |
| Bushing/ring | Cast Brass |
Actuation
Hand lever
Worm-gear/hand-wheel
Electric-actuator
Pneumatic-actuator
Hydraulic-actuator
Ball valve features
Advantages:
Has the lowest flow resistance (actually 0)
Can be reliably used in corrosive media and low-boiling liquids
It can achieve complete sealing in a large pressure and temperature range
Can achieve fast opening and closing, no impact operation
The spherical closure can be automatically positioned at the boundary position
The working medium is reliably sealed on both sides
The medium passing through the valve at high speed will not cause corrosion of the sealing surface
Compact structure and light weight, it can be considered as the most reasonable valve structure for low temperature medium system
The valve body is symmetrical, especially the welded valve body structure, can well bear the stress from the pipeline
The closing piece can withstand the high pressure difference when closing
The ball valve with fully welded body can be buried directly underground, so that the internal parts of the valve are not eroded, and the maximum service life can reach 30 years. It is the most ideal valve for oil and natural gas pipelines.
Disadvantages:
Because the main seat sealing material of ball valve is PTFE, whenit becomes hard, the reliability of the seal will be destroyed. It can only be used at less than 180℃. In the case of long-term use, it is generally only used at 120 ℃.
Its regulating performance is worse than that of globe valve
Related types of valves:
We can also produce gate valve, check valve, globe valve, knife gate valve  with API, JIS, DIN standard, used in Oil, Gas, Marine industry, Water supply and drainage, fire fighting, shipbuilding, water treatment and other systems, with Nominal Diameter of DN50 to DN1200, NBR/EPDM/VITON, Certificates & Approvals: DNV-GL, Lloyds, DNV, BV, API, ABS, CCS. Standards: EN 593, API609, API6D,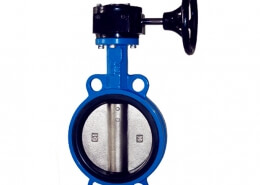 tanghaivalve.com
https://www.tanghaivalve.com/wp-content/uploads/2020/06/Wafer-type-butterfly-valve-with-worm-gear.jpg
610
679
admin
https://www.tanghaivalve.com/wp-content/uploads/2020/07/logo2.png
admin
2020-05-21 07:48:00
2021-10-28 08:25:03
Wafer type butterfly valve (TH-BTV-AW)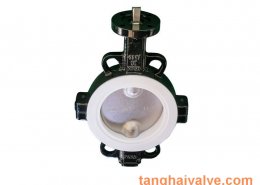 tanghaivalve.com
https://www.tanghaivalve.com/wp-content/uploads/2021/01/Fluorine-lined-butterfly-valve-PTFE-WAFER-1.jpg
600
800
admin
https://www.tanghaivalve.com/wp-content/uploads/2020/07/logo2.png
admin
2020-05-17 10:10:31
2021-05-12 08:10:16
Fluorine lined PTFE butterfly valve (TH-BTV-PTFE)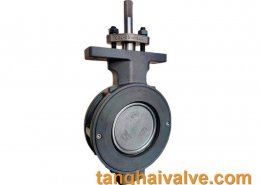 https://www.tanghaivalve.com/wp-content/uploads/2021/01/high-performance-double-offset-wafer-type-butterlfy-valve-metal-seated-5.jpg
600
800
admin
https://www.tanghaivalve.com/wp-content/uploads/2020/07/logo2.png
admin
2020-05-17 08:23:53
2021-05-12 08:20:11
Double eccentric High performance butterfly valve (TH-BTV-DE)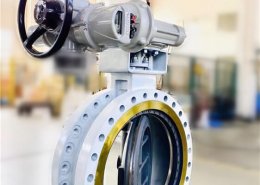 tanghaivalve.com
https://www.tanghaivalve.com/wp-content/uploads/2021/04/triple-offset-butterfly-valve-double-flange-5.jpg
800
562
admin
https://www.tanghaivalve.com/wp-content/uploads/2020/07/logo2.png
admin
2020-05-16 08:16:26
2021-05-12 08:35:01
Triple eccentric butterfly valve (TH-BTV-TE)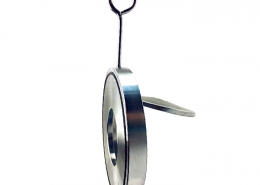 tanghaivalve.com
https://www.tanghaivalve.com/wp-content/uploads/2020/06/single-plate-swing-check-valve-2.jpg
700
700
admin
https://www.tanghaivalve.com/wp-content/uploads/2020/07/logo2.png
admin
2020-05-16 02:27:26
2022-10-08 03:13:38
Single-disc swing check valve (TH-CKV-SDS)