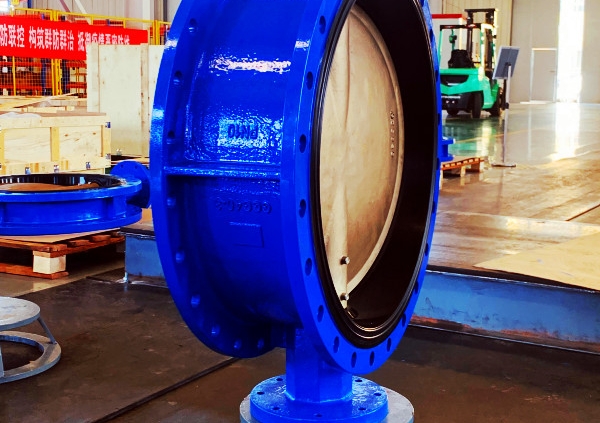 tanghaivalve.com
Features and structure drawings of flange butterfly valve
The main features of  flange butterfly valve are:
Small and light, easy to disassemble and repair, and can be installed in any position.
The structure is simple and compact, the operating torque is small, and the 90° turn to open quickly.
The flow characteristics tend to be straight, and the regulation performance is good.
The connection between the butterfly plate and the valve stem adopts a pinless structure, which overcomes possible internal leakage points.
The outer circle of the butterfly plate adopts a spherical shape, which improves the sealing performance and prolongs the service life of the valve. It still maintains zero leakage after opening and closing more than 50,000 times under pressure.
​​The seal can be replaced, and the seal is reliable to achieve two-way sealing.
The butterfly plate can be sprayed with a coating layer, such as nylon or PTFE, according to user requirements.
The valve can be designed as flange connection and wafer connection.
The driving mode can be manual, electric or pneumatic.
Flange butterfly valves are suitable for water supply and drainage, sewage, food, heating, gas, ships, hydropower, metallurgy, energy systems, textiles and other industries with a temperature of ≤120℃ or ≤150℃ and a nominal pressure of ≤1.6MPa. They are especially suitable for two-way sealing and In occasions where the valve body is prone to rust, it is used as a flow adjustment and interception medium.
Internal structure diagram of flange butterfly valve: see attached below
Clamp flange connection sequence:
1. Piping: Use a pipe cutter or a grinding wheel cutting machine to cut the stainless steel pipe vertically according to the required length, trim the end burr, and make it round;
2. Welding: The left and right tapered flange flange pieces (with grooves, specially used for embedding the flange gasket on both sides) are respectively welded to the two piping ports that need to be connected by argon tungsten arc welding (TIG welding) ;
3. Gasket: double-sided flange gaskets are lined between the left and right flanges;
4. Fastening: clamp the two flanges with a clamp, and then use a fastening screw (hexagon socket bolt) to clamp the flange or fasten the handle (one end of the external thread is connected with the internal thread of the handle, and one end is flexibly connected with a fixed rivet) .
Executive standard: API, DIN, BS, EN, GB and other international standards.
Tanghai Valve is the best manufacturer of flange butterfly valve in China. We produce the best quality products with competitive low prices. Our products use advanced manufacturing technology, and strictly conform to API, DIN, BS, EN, GB and other international standards. The main products are butterfly valves, gate valves, check valves, globe valves, valve parts (Valve body, Valve disc, Valve shaft, Valve seat…), etc. Our products are widely used in various fields such as marine industry, shipbuilding, petrochemical, metallurgy, water treatment, fire fighting, water supply and drainage, etc. The company has won unanimous recognition and praise from customers with high quality and good reputation.
Related news /products:
Notes on selection and installation of butterfly valve;
Centerline flange butterfly valve;
Related Information of flange butterfly valve;
Introduction of U-shaped flange butterfly valve;
Ventilation butterfly valve installation instructions
https://www.tanghaivalve.com/wp-content/uploads/2020/06/Double-flange-butterfly-valve-2.jpg
630
600
admin
https://www.tanghaivalve.com/wp-content/uploads/2020/07/logo2.png
admin
2020-07-23 03:40:14
2021-08-06 08:15:34
Features and structure drawings of flange butterfly valve