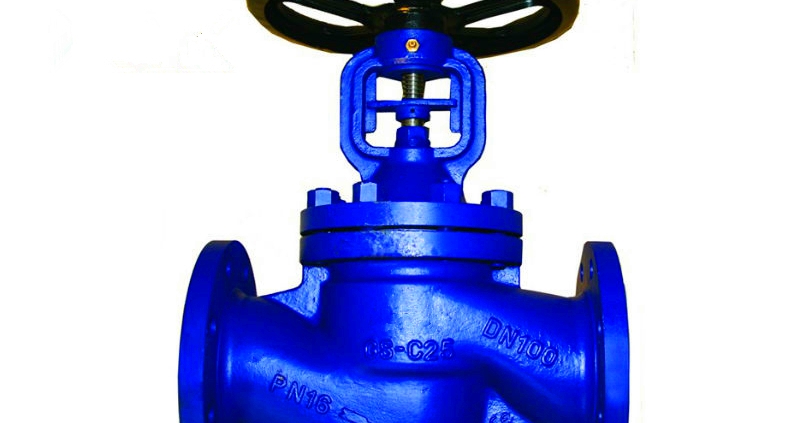 tanghaivalve.com
bellows globe valve structure and features
Bellows globe valve structure (picture), the function and characteristics of bellows globe valve
Bellows globe valve structure:
Bellows cut-off valve is mainly filled with a bellows seal. The upper part of the outer surface of the bellows is welded to the valve body to form a closed space in which the liquid is contained. The valve stem is inserted into the bellows, and the bottom of the bellows is connected to the valve core. The expansion and contraction of the bellows controls the opening of the valve core. Therefore, if the bellows does not crack, there can be no leakage. The bellows has a very high sealing reliability and can be used in toxic media or gases. Such as chlorine. Prevent leakage.
Structural characteristics of bellows globe valve:
1. Double sealing design (bellows + packing) If the bellows fails, the stem packing will also avoid leakage and meet international sealing standards
2. There is no fluid loss, reducing energy loss and improving plant equipment safety
3. Long service life, reduce maintenance times and lower operating costs
4. Rugged and durable bellows seal design to ensure zero leakage of the valve stem and provide maintenance-free conditions
5. The gas medium valve seat adopts PTFE soft sealing material to improve the sealing performance of this valve
6. High temperature resistance≤425℃The valve seat adopts conical hard seal. Achieve airtight performance and zero leakage
The function of the bellows globe valve:
The function of the bellows in the globe valve is to seal and prevent the medium from leaking from the valve stem. The lower end of the bellows and the valve stem are connected by sealing welding, the upper end and the gland are connected by sealing welding, and the gland is connected with the upper Metal spiral wound gaskets are generally installed between the flanges to ensure sealing. The bellows shut-off valve is extremely tight and rarely leaks.
TH Valve is a professional manufacturer of butterfly valve, gate valve, check valve, globe valve, knife gate valve, ball valve with API, JIS, DIN standard, used in Oil, Gas, Marine industry, Water supply and drainage, fire fighting, shipbuilding, water treatment and other systems, with Nominal Diameter of DN50 to DN1200, NBR/EPDM/VITON, Certificates & Approvals: DNV-GL, Lloyds, DNV, BV, API, ABS, CCS. Standards: EN 593, API609, API6D
related news /knowledge:
The structure and characteristics of bellows gate valve;
bellows globe valve vs ordinary globe valve;
Comparison of bellows globe valve and ordinary globe valve; 
The working principle and characteristics of the globe valve
https://www.tanghaivalve.com/wp-content/uploads/2020/06/Globe-valve-9.jpg
582
800
admin
https://www.tanghaivalve.com/wp-content/uploads/2020/07/logo2.png
admin
2021-07-09 09:41:57
2021-08-06 05:28:32
bellows globe valve structure and features