The difference between knife gate valve and ordinary gate valve
There are many types of gate valves. Knife gate valve is one of them, also called knife gate valve. According to different structure types, gate valves can be divided into flat gate valves and knife gate valves. According to the different connection methods, knife gate valves can be divided into flange type; lug type and wafer type.
Compared with ordinary gate valves, the structure of the knife gate valve is simple, the opening and closing part is a gate, and the movement direction of the gate is perpendicular to the direction of the fluid. It is small in size, flexible in operation, and easy to install. It is more suitable for media with higher consistency and solid particles. As we can see from the name, the knife gate valve mainly relies on the knife-edge gate to cut off the medium. The gate has two sealing surfaces, forming a wedge shape. The gate can be made into an integral rigid gate; it can also be made into an elastic gate that can produce slight deformation and improve the sealing performance from the process. To sum up, compared with ordinary gate valves, knife gate valves mainly highlight the following product advantages:
1. The U-shaped gasket has a good sealing effect.
2. The full-diameter design makes the medium passability strong. At the same time, it can be easily installed, easily disassembled, and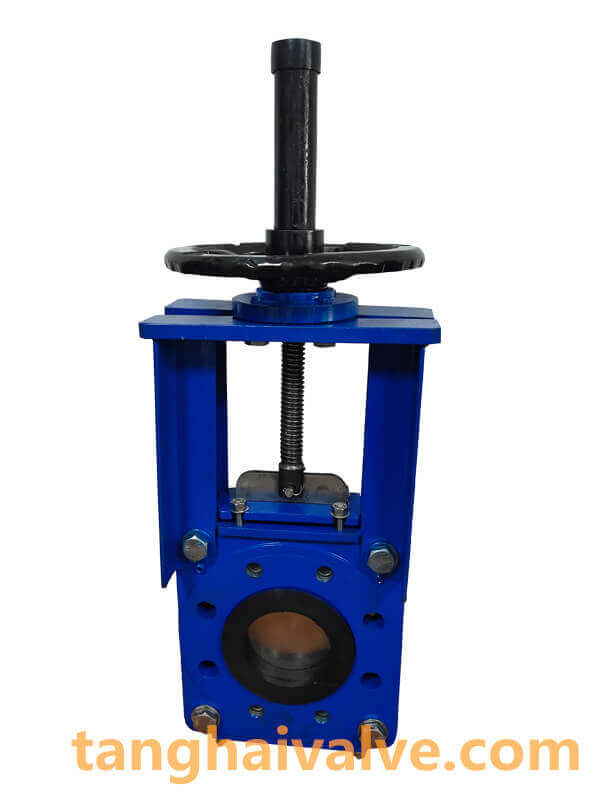 maintained under the working conditions of dirty media. The valve seal can be replaced without removing the valve, making the valve maintenance easier.
3. The gate with the function of the guillotine knife has good sluicing effect, can effectively squeeze off all kinds of debris in the medium, and solve the leakage phenomenon of the medium containing lumps, particles and fibers after the sluice is broken.
4. The knife gate valve has an ultra-short structure length, small size, small flow resistance, light weight, material saving, and small effective space.
Although the price of knife gate valve is about 20% higher than that of ordinary gate valve, its better performance has been generally recognized by the market, and it has quietly boarded the list of the most popular product series of Tanghai Valve. Through more than 20 years of research and production of valve technology, Tanghai Valve has senior production experience and advanced technical level, has a formal and modern production base, and has stably provided a large number of products for the knife gate valve market with a good reputation. If you need a knife gate valve, choose Tanghai Valve.
TH Valve is a professional manufacturer of butterfly valve, gate valve, check valve, globe valve, knife gate valve, ball valve with API, JIS, DIN standard, used in Oil, Gas, Marine industry, Water supply and drainage, fire fighting, shipbuilding, water treatment and other systems, with Nominal Diameter of DN50 to DN1200, NBR/EPDM/VITON, Certificates & Approvals: DNV-GL, Lloyds, DNV, BV, API, ABS, CCS. Standards: EN 593, API609, API6D
Related news/knowledge:
Pneumatic gate valve model preparation method
Knife gate valve introduction and its characteristics
Comparison of bellows globe valve and ordinary globe valve
https://www.tanghaivalve.com/wp-content/uploads/2020/07/logo2.png
0
0
admin
https://www.tanghaivalve.com/wp-content/uploads/2020/07/logo2.png
admin
2021-09-27 03:32:27
2021-09-27 03:32:27
The difference between knife gate valve and ordinary gate valve