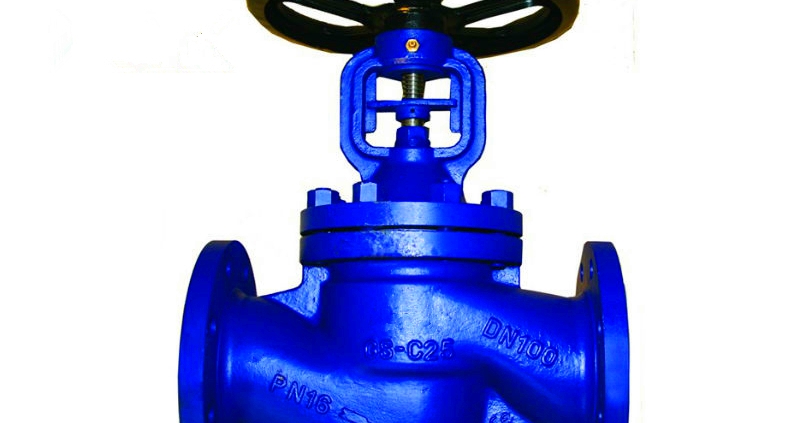 tanghaivalve.com
Globe valve structures and design standard
Globe valve structure, Globe valve design standard
The shut-off valve is a particularly common shut-off valve, which is mainly used to connect or cut off the medium in the pipeline, and is generally not used to adjust the flow. The globe valve is suitable for a wide range of pressure and temperature, but it is generally used for medium and small diameter pipelines.
Structural principle of globe valve:
1. The center of the inlet and outlet of the shut-off valve are on the same straight line, and the fluid flows like an S-shaped sphere, so it is also called a spherical shut-off valve.
2. When the valve seat of the valve stem descends toward the bottom sealing surface and is pressed down, the medium stops flowing; when the valve stem rises, the medium passes through the flow path from below to above.
Globe valves generally have direction requirements during installation. The flow direction of the medium in the pipeline generally flows from bottom to top through the valve seat port, which is what we often call the so-called "low inlet and high outlet". The purpose of this is to reduce fluid resistance and save effort in opening. In the closed state, the valve stem and the packing culvert are not in contact with the medium to ensure that the valve stem and the packing culvert are not damaged or leaked.
Globe valve structure diagram Globe valve structure and design standards:
name
Globe valve structure
Globe valve design standard
Typical Forged Steel Globe Valve
1. Flow channel JB/T 7746-1995: Shrinkage hole BS5352-1999: Through hole or shrinkage hole (CL150~800); Through hole (Cl1500) JPI-7S-36-1999: Through hole
2. Valve body and bonnet Connection: flange, thread or welding
3. Connection end JB/T 7746-1995: internal thread, socket welding or flange BS5362-1999: internal thread, socket, flange and butt welding JPI-7S-36- 1999: Internal thread, socket
JB/T 7746-1995
BS 5352-1999
JPI-7S-36-1999
Internal pressure self-sealing forged steel globe valve
1. Flow path: shrinkage hole
2. Connection between valve body and bonnet: internal pressure self-sealing
3. Connection end: butt welding, flange or socket
ASME B16.34-1996
Cast steel globe valve
1. Flow path: angle type, straight-through, direct current (Y type)
2. Connection between valve body and bonnet: flange
3. Connection end: flange or butt welding
4. Various types of discs can be used, Usually exposed rod, there are also a few smaller diameter valves with dark rod
JPI-7S-46-1999
JIS B2071-1999
JIS B2072-1999
JIS B2081-1999
JIS B2082-1999
BS 1873-1999
MSS-SP-42-1999
GB/T 12235-1989
BS 5160-1989
Bellows Sealed Globe Valve
1. Flow path: angle type, straight-through, direct current (Y type)
2. Connection between valve body and bonnet: flange
3. Connection end: flange or butt welding
4. Various types of discs can be used, It is usually an exposed stem, but there are also a few valves with smaller diameters that use double stem seals with concealed stem 5, bellows and packing
ASME B16.34-1996
Angle type high pressure globe valve
1. Flow path: angle type
2. Connection between valve body and bonnet: thread, clamp or welding
3. Various types of discs can be used. For ultra-high pressure valves, internal pressure self-balancing discs are usually used
4. The valve body can adopt integral type, two-piece type
5. Connection end: flange or butt welding
ASME B16.34-1996
GB/T 12235-1989
Lining stop valve
1. Flow channel: angle type, straight-through, direct current (Y type)
2. Connection between valve body and bonnet: flange
3. Connection end: flange or butt welding
4. Lining material is rubber, plastic, etc.
ASME B16.34-1996
Two-way three-way globe valve
1. Flow path: two-way three-way flow path
2. Connection between valve body and bonnet: flange
3. Connection end: flange or butt welding
ASME B16.34-1996
Cast steel discharge stop valve
1. Flow path: straight-through
2. Connecting end: flange
3. Disc: upward or downward expansion
4. Connection between valve body and bonnet: flange
ASME B16.34-1996
Three-way globe valve
1. Flow path: Tee
2. Connecting end: Flange
3. Disc: Plane seal
ASME B16.34-1996
Pressure gauge shut-off valve
1. Flow path: DC, right angle, three-way
2. Connection between valve body and bonnet: integral forging or thread
3. Connection end: external thread, clamp
4. Disc: Cone and flat
ASME B16.34-1996
Water seal stop valve
1. Flow path: DC
2. Connection end: socket welding, butt welding
3. Valve body and bonnet: both forged, with a chromium nickel steel or carbon steel
4. Disc: Cone seal (DN10~25mm) , Plane seal (DN32~200mm)
E101-1999
GB/T 12235-1999
ASME B16.34-1996
Slurry shut-off valve
1. Flow path: DC
2. Connection end: Flange
3. Valve body structure: The valve seat is clamped between the left and right valve bodies, and the left and right valve bodies are connected by bolts.
4. The valve body and the bracket are connected by bolts.
5. The valve cover: CL150 is forged as a whole, CL300 and CL400 are split type, using strut connection.
6. Disc: Cone surface is sealed into plane seal, or throttle type sealing surface is overlaid with hard alloy
GB/T 12235-1989
ASME B16.34-1996
Angle globe valve
1. Flow path: right angle
2. Connection end: flange
3. Valve body and bonnet: forged throttling type. The sleeve is drilled and the piston moves up and down in the sleeve to adjust the flow.
4. Valve body, valve Cover connection: bolt connection
API 6A-2002
Titanium Globe Valve
1. Flow path: straight-through
2. Valve body, bonnet, stuffing box, valve clack, valve stem are made of titanium
3. Valve body and bonnet connection: bolt connection
4. Valve clack is flat seal
GB/T 12235-1989
TH Valve is a professional manufacturer of butterfly valve, gate valve, check valve, globe valve, knife gate valve, ball valve with API, JIS, DIN standard, used in Oil, Gas, Marine industry, Water supply and drainage, fire fighting, shipbuilding, water treatment and other systems, with Nominal Diameter of DN50 to DN1200, NBR/EPDM/VITON, Certificates & Approvals: DNV-GL, Lloyds, DNV, BV, API, ABS, CCS. Standards: EN 593, API609, API6D
related news /knowledge:
The structure and connection of the American standard valve;
Classification of the globe valves-(2);
The working principle and characteristics of the globe valve;
Pneumatic globe valve model preparation method
https://www.tanghaivalve.com/wp-content/uploads/2020/06/Globe-valve-9.jpg
582
800
admin
https://www.tanghaivalve.com/wp-content/uploads/2020/07/logo2.png
admin
2021-07-15 05:38:45
2021-08-06 05:34:19
Globe valve structures and design standard