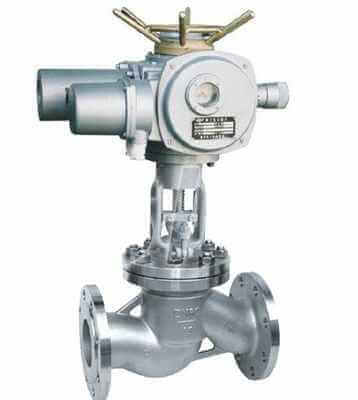 tanghaivalve.com
working principle of electric globe valve
The principle of electric globe valve; The working principle of electric globe valve
Overview of electric shut-off valve:
The electric shut-off valve is equipped with an electric actuator on the basis of the shut-off valve, and the opening
and closing of the valve is controlled by an electric device. The connection between the valve and the actuator adopts a direct connection method. The electric actuator has a built-in servo system, no need to be equipped with a servo amplifier, input 4-20mA signal and 220VAC power supply to control the operation. It has the advantages of simple connection, compact structure, small size, light weight, low resistance, stable and reliable action, etc. It can also be operated manually on site according to requirements, with the actuator with hands and electric switching mechanism. In addition to local operations, remote operations can also be performed.
Working principle of electric shut-off valve:
The closing principle of the electric shut-off valve is to rely on the electric thrust to rotate the valve stem, so that the sealing surface of the disc and the sealing surface of the valve seat are closely attached to prevent the medium from flowing. The electric shut-off valve only allows the medium to flow in one direction and is directional when installed. The structural length of the shut-off valve is longer than that of the gate valve, and the fluid resistance is large, and the sealing reliability is not strong during long-term operation.
1 In the closed position, the valve body is mechanically pressed by the valve stem, and the sealing surface of the valve clack is tightly pressed on the valve seat.
2 When turning the handwheel counterclockwise, the valve stem moves in the opposite direction, and the bottom angle plane makes the valve body separate from the valve seat.
3 The valve stem continues to lift, and interacts with the guide pin in the spiral groove of the valve stem, so that the valve flap starts to rotate without friction.
4 Until it reaches the fully open position, the valve stem is raised to the limit position and rotated to the fully open position.
Parameters of electric shut-off valve:
Valve material: cast iron, cast steel, stainless steel, forged steel, forged stainless steel, chromium molybdenum steel, low temperature steel.
Working pressure: 1.6-32MPa
Working temperature: -196°C-550°C
Valve diameter: DN15-DN800 Connection method: flange, wire or welding
Drive mode: electric
Applicable medium: water, oil, gas, steam, etc.
Application areas: mechanical equipment, chemical equipment, general parts, industrial equipment, water supply and drainage equipment, papermaking equipment, pharmaceutical equipment, general equipment, petrochemical equipment, power equipment, metallurgical powder equipment, mining equipment, municipal, electronic industry, etc.
TH Valve is a professional manufacturer of butterfly valve, gate valve, check valve, globe valve, knife gate valve, ball valve with API, JIS, DIN standard, used in Oil, Gas, Marine industry, Water supply and drainage, fire fighting, shipbuilding, water treatment and other systems, with Nominal Diameter of DN50 to DN1200, NBR/EPDM/VITON, Certificates & Approvals: DNV-GL, Lloyds, DNV, BV, API, ABS, CCS. Standards: EN 593, API609, API6D
related news /knowledge: The working principle and characteristics of the globe valve; The difference and selection of electric valve and pneumatic valve; 
https://www.tanghaivalve.com/wp-content/uploads/2021/06/electric-globe-valve.jpg
400
358
admin
https://www.tanghaivalve.com/wp-content/uploads/2020/07/logo2.png
admin
2021-07-12 05:01:00
2021-07-12 05:01:00
working principle of electric globe valve