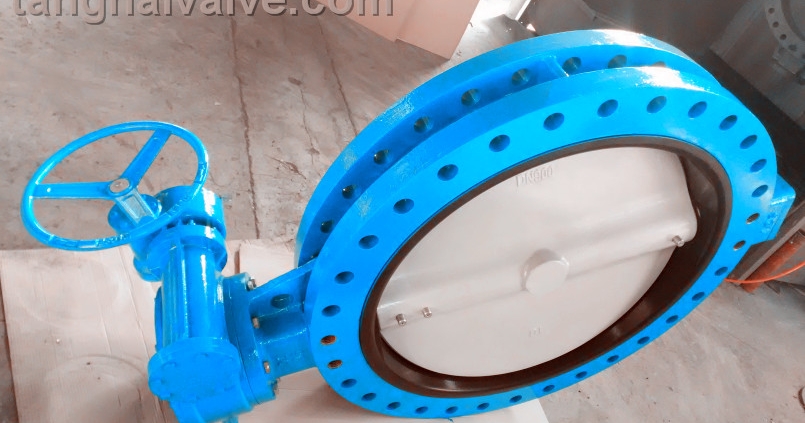 tanghaivalve.com
structure and characteristics of U type flange butterfly valve
Introduction of U type flange butterfly valve:
The face-to-face structure of U type flange butterfly valve is shorter than that of double flanged butterfly valve. U-shaped flange butterfly valve is widely used in
petroleum, chemical, electric power, metallurgy, food, medicine, textile, papermaking and other industries. It can be installed at a temperature of ≤425℃, and the medium is gas, air, steam, water, sea water, Industrial pipe networks such as oil products are used to adjust flow and cut off media.
U-shaped flange butterfly valve drive forms include manual, worm gear, pneumatic, hydraulic, electric, electro-hydraulic linkage and other actuators, which can realize remote control and automatic operation. The structure of the U-shaped flange butterfly valve adopts the principle of three-dimensional knitting design, and the valve seat adopts a multi-level structure compatible with hard and soft sealing, exquisite processing and advanced technology.
Composition and design principle of U type flange butterfly valve:
This product is composed of main components such as valve body, butterfly plate, multi-level valve seat, valve stem and transmission mechanism. Therefore, it is widely used in metallurgy, electric power, petroleum, chemical industry, air, gas, combustible gas, water supply and drainage and other corrosive media pipelines.
Because the U-shaped flange butterfly valve adopts the three-dimensional eccentric principle design, the space motion trajectory of the sealing surface is idealized. There is no friction and interference between the sealing surfaces, and the sealing material is selected properly, so that the sealing performance of the butterfly valve can be improved. Corrosion resistance, high temperature resistance and wear resistance are reliably guaranteed.
Features of U type flange butterfly valve:
The main features of U-shaped flange butterfly valve are:
1. The opening torque is small, flexible and convenient, labor-saving and energy-saving.
2. The three-dimensional knitting core structure makes the butterfly plate tighter and tighter, and its sealing performance is reliable and leak-free.
3. High pressure resistance, corrosion resistance, wear resistance, long service life, etc.
TH Valve is a professional manufacturer of butterfly valve, gate valve, check valve, globe valve, knife gate valve, ball valve with API, JIS, DIN standard, used in Oil, Gas, Marine industry, Water supply and drainage, fire fighting, shipbuilding, water treatment and other systems, with Nominal Diameter of DN50 to DN1200, NBR/EPDM/VITON, Certificates & Approvals: DNV-GL, Lloyds, DNV, BV, API, ABS, CCS. Standards: EN 593, API609, API6D
Related news /knowledge: Introduction of U-shaped flange butterfly valve; Pneumatic U-shaped flange butterfly valve.
https://www.tanghaivalve.com/wp-content/uploads/2020/06/U-type-flange-butterfly-valve-8.jpg
486
805
admin
https://www.tanghaivalve.com/wp-content/uploads/2020/07/logo2.png
admin
2020-07-22 02:41:53
2021-06-22 07:50:28
structure and characteristics of U type flange butterfly valve